Hope 4 Kids Early Learning Center is a faith-based, nature-centered quality program for children ages birth through kindergarten. We are an Outdoor Classroom Demonstration Site, working to promote quality outdoor experiences for children throughout Santa Barbara County. We are open year-round, Monday through Thursday, 7:30am to 5:30pm and close at 5:00pm on Fridays for staff training and development. (Please see our calendar on the home page for more information.) We offer a variety of scheduling options to serve our community's children. Please contact our office for availability.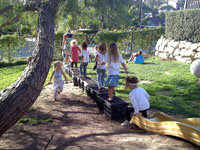 Our amazing staff fosuses on the importance and value of play, choices, and social and emotional growth and development. We spend most of our day in our outdoor classrooms discovering, exploring, respecting, and loving nature.

At Hope 4 Kids we believe that all children need and deserve quality, loving childcare regardless of ethnic background, religious preference, or income level. We are pleased to offer quality childcare to all families and gladly accept most alternative payment programs including SB County Child Development, EOPS and several other programs funded through the Santa Barbara Resource & Referral Center and the Family Service Agency. For information about alternative payment programs you may also visit our Local & Web Resources Page. Please contact our office to inquire about alternative payment program spaces within our program.
We wish to thank the Daniel Child Care Scholarship Fund and The Santa Barbara Foundation for their very generous contributions to our scholarship program! We currently have limited scholarships available for foster and low-income children! Please contact our office for details.

Hope 4 Kids is located on-site at the former meeting place of Hope Community Church. HCC fully and wholeheartedly supports H4K in many ways and we thank the HCC staff and friends for their generous contributions and time in making H4K one of the best child care programs available in Santa Barbara! If you have not already, we invite you to check out "church for the rest of us" at Hope Community, meeting at La Cumbre Junior High School campus (2255 Modoc Road, Santa Barbara, 93101) at 10:00am with FREE CHILD CARE. Click on the Hope Community Church logo above to visit the awesome website!
While our child care center is run independently from Hope Community, we often open special events and activities to families from both the church and Hope 4 Kids to provide greater resource venues to all families. Hope Community has a long and successful history of providing relevant, exciting children's programs for over 40 years! We are known in this community for providing successful "over-the-top" programs for children of all ages. It is our privilege and honor to extend our ministries deeper into the Santa Barbara community by offering an incredible, quality, loving, and nurturing child care center. We look forward with excitement, anticipation, and enthusiasm to another 40 years of providing love and care for children and families in our community.
We are partners! At Hope 4 Kids, we believe it is vital to create a partnership with your family. You are your child's first teacher! You have poured your time, energy, and resources into your child. You have nurtured your child and offered love, guidance and education throughout his or her life.

Our desire is to partner with you. We are interested in your goals for your child and family. We hope that you will communicate the knowledge and insight you have about your child with us so that together we can establish a plan that provides the love, care, daily experiences/interactions, and education you desire for your child.

We welcome and look forward to your input, suggestions, creativity, ideas, comments, and thoughts about your child and his or her experiences at Hope 4 Kids Early Learning Center. Please feel free to contact us with any questions you may have or to schedule a tour to discover more about our amazing programs.